Starting July 13- City of LA Emergency Renters Assistance Program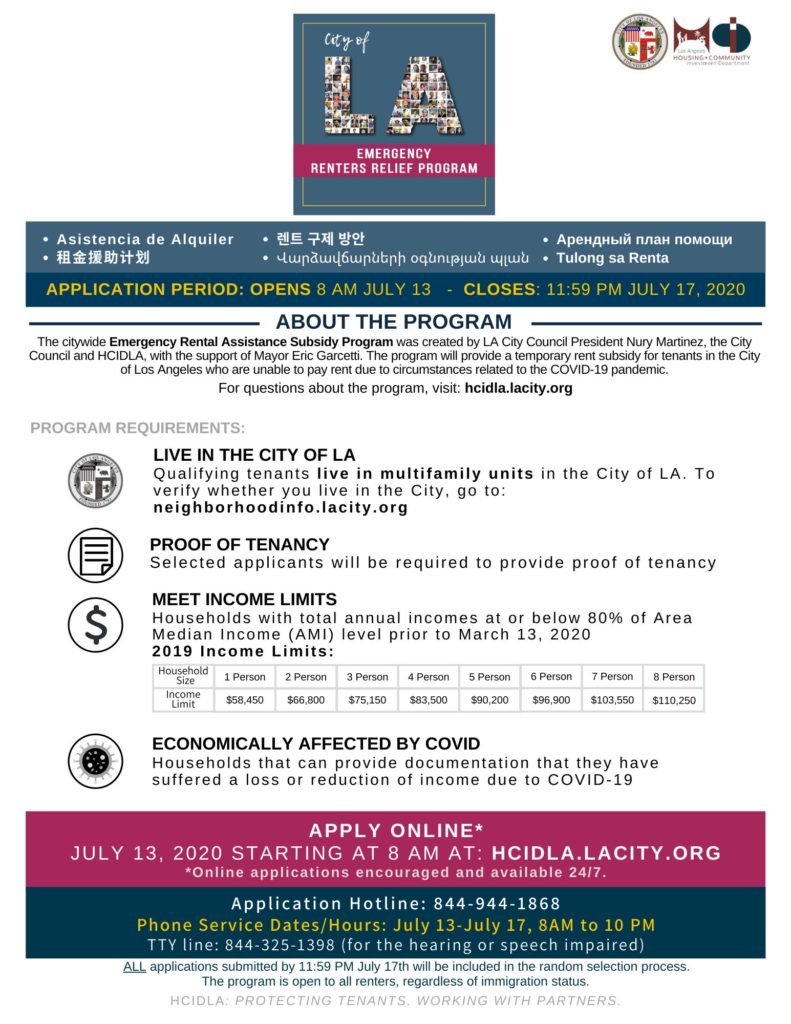 To assist LA's tenants and landlords affected by the current COVID-19 health pandemic, and prevent displacement of renters, the citywide Emergency Rental Assistance Subsidy Program was created by the City Council and HCIDLA, with the support of Mayor Eric Garcetti.
The program will provide a temporary rent subsidy for tenants in the City of Los Angeles who are unable to pay rent due to circumstances related to the COVID-19 pandemic.
The program allocates $103,000,000 to provide a rent subsidy to Los Angeles City renters impacted by the COVID-19 health pandemic and is anticipated to assist 50,000 Los Angeles households.
The Los Angeles Housing + Community Investment Department (HCIDLA) is charged with the implementation of the Emergency Rental Assistance Subsidy Program (ERAS).
Starting Monday, July 13 at 8am renters can apply for assistance by visiting:
https://hcidla.lacity.org/
Interested applicants are encouraged to visit the website to learn about the requirements and read the frequently asked questions.
Share this information with others.
Please let me know if you have questions or have a resource to share.
The Office of Councilmember Cedillo is here to help.
Thanks,
Jose Rodriguez, Deputy District DirectorOffice of Los Angeles City Councilmember Gilbert Cedillo
Council District 1District Office
5577 N. Figueroa St.
Los Angeles, CA 90042
(323) 550-1538 Office
© Copyright 2020 Lincoln Heights Neighborhood Council. All rights reserved.